By Asher Crispe: June 21, 2016: Category News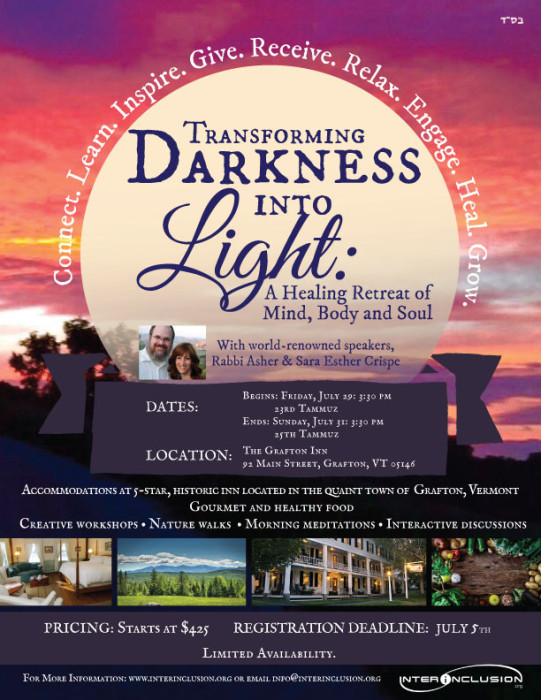 Frequently Asked Questions:
About the Interinclusion Summer Retreat 2016:
How long is the retreat?
The retreat is over three days, two nights, beginning on Friday, July 29th at 3:30pm and ending on Sunday, July 31st at 3:30pm. We are more than happy to suggest activities for the rest of Sunday day for those that want to extend their trip.
Are the retreats for adults only or are children allowed?
Because of the nature of the retreats which are fully packed days going late into the evenings, we are focused on an adults-only program. However, based on the age of the children, we may possibly offer some babysitting services so please be in touch with us directly if you are interested.
Who will be catering the retreat and what kind of food will be used? What if we have allergies?
The cooking will be done in the Crispe home or at the Inn in a kitchen that has been koshered by Rabbi Crispe. All food will be glatt kosher, chalav yisrael and pas yisrael. At every meal there will be vegetarian options as well as gluten free food and allergen free. If there are special needs this does not cover we can arrange for that as well with advanced notice.
What are the rooms like in the Grafton Inn?
Each room is unique with a different set up with the majority having a King or Queen bed. There are rooms that are available with two double beds if that is requested in advanced. If you have a specific requirement please let us know as soon as possible and we will try our best to accommodate. Please see their website for more information about the Inn: www.graftoninn.com.
Who are the speakers at the retreat?
The speakers are Rabbi Asher and Sara Esther Crispe (see bios below) who will be speaking both formally and informally throughout. The retreat is set up that every part of the program is an educational opportunity and interactive so learning will be included on walks, during other activities, etc.
Rabbi Asher Crispe is the Co-Director of Interinclusion.org, a social mosaic which perpetuates the arts, sciences, literature and music through Jewish tradition.
He is a highly knowledgeable technology expert and futurist as well as a media aficionado with a thorough and intimate knowledge of emerging developments in science and the digital universe. With over 20 years of experience as an educator, Rabbi Crispe regularly travels the world as a speaker / lecturer teaching in Jewish centers and academic institutions.
He specializes in illuminating the arts and sciences through the lens of the Torah. His lectures have focused on: music, film, architecture, gender theory, psychology, education, economics, regenerative medicine and physics.
He has also served as a consultant for financial, medical, and technological projects all relating to future trends.
Sara Esther Crispe is the Co-Director of Interinclusion.org, a multi-layered educational non-profit celebrating the convergence between contemporary arts and sciences and timeless Jewish wisdom.
She has traveled the world as a sought out motivational speaker and educator, presenting on interpersonal relationships and the Kabbalistic approach to self-development. Sara Esther was also the creator and editor for ten years of TheJewishWoman.org—a section of Chabad.org—the largest website on Judaism. She has also worked with Part2Pictures as a producer for shows relating to Judaism on the Oprah Winfrey Network and HARPO Productions, most recently a segment of the BELIEF series which was presented at the UN.
A prolific writer, her pieces can be found on numerous online sites including The Huffington Post. She is currently working on a book about the power of the Jewish woman as well as a book on parenting titled, I Used to be the Perfect Mother, Then I Had Kids.
What is the theme of the retreat?
Being that the retreat falls during the three-week period of mourning in Jewish practice, the theme of this retreat is:
"Transforming Darkness into Light: A Healing Retreat of Mind, Body and Soul"
What types of activities will be offered?
The retreats offer numerous opportunities for learning, interaction, relaxation and self-development. There is also free time scheduled for participants to explore the area and further engage in activities of their choice. Group activities include: painting and writing workshops, nature walks, time at the lake, bonfire and smores, classes, morning meditations and more….
Who is the retreat geared for?
We do not have a "target" audience rather we are looking for those who want to truly immerse themselves in an environment of growth, discussion and exploration. The goal of the retreat is to recharge our batteries by escaping the hustle and bustle of life and give ourselves the time in a naturally beautiful setting to really delve deep within while learning how to better connect with those around us.
How do we sign up and what is the cost?
Please contact us at info@interinclusion.org and we will send you a registration form. If you are coming on your own we can possibly arrange for you to share a room with another guest if you would like. Costs are as follows:
$425 pp (4 per room with 2 double beds)
$475 pp (3 per room with 2 double beds)
$550 pp (2 per room with king or queen)
$675 pp (1 per room with king or queen)
About Grafton, Vermont:
How far away is Grafton from NYC?
Grafton is about a 4 hour drive from Manhattan, 6 hours from Philadelphia.
What is the closest airport?
One can fly to Albany, NY, Burlington, VT or Manchester, NH. All are about a 2 hour drive to Grafton.
Is there public transportation?
Amtrak has a daily stop in Brattleboro, VT which is about 30 min. from Grafton.
If we want to extend our stay, what is there to do in and around Grafton?
Here is a list of attractions within an hour's drive (taken from the www.gratoninnvermont.com website). This includes winter activities as well for future visits!
Art Galleries
Gallery North Star, Grafton, Vt. – Fine Art Gallery – gnsgrafton.com
Hunter Gallery, Grafton, Vt. – Fine Art Gallery – (802) 843-1440
Jud Hartmann Gallery, Grafton, Vt. – bronze sculpture – judhartmanngallery.com
Antiques / Flea Markets
Visit the Vermont Antiques Dealers Association website.
Newfane Flea Market, Newfane, Vt. – largest Flea Market in Vt. Open May-Oct. – 802-365-4000
Attractions
Books / Reading
Entertainment (Misc.)
Gardens / Farms
Golf
Bellows Falls Country Club (9 hole) – Rockingham, Vt. – (802) 463-9809 – com
Crown Point Country Club (18 holes), Springfield, Vt., – crownpointcc.com
Hooper Golf Club (9 hole) – Walpole, NH – (603) 756-4020
Tater Hill Golf Club (18 hole) – okemo.com (closest to The Old Tavern)
Hiking
Appalachian Trail (Long Trail), Vermont, Vermont's piece of the AT is 150 miles. Elevation ranges from 400-4100 feet and is named the Long Trail.  greenmountainclub.org
Grafton Ponds – graftonponds.com
Grafton Village Park & the Nature Trails at the Nature Museum, Grafton
Retreat Trails, Brattleboro, Vt. – a nine-mile recreational trail network. Five area entries, including one at the Retreat Petting Farm. windham-foundation.org
Historic Themed / Historic Sites
Maple Syrup
Movies
Bellows Falls Opera House – Bellows Falls, Vt. – (802) 463-4766 – com
The Latchis Theater – Brattleboro, Vt.– latchis.com
Museums
Brattleboro Museum and Art Center, Brattleboro, Vt. – brattleboromuseum.org
Grafton Historical Society, Grafton — Museum with historic artifacts and exhibits on Grafton. – graftonhistoricalsociety.org.
Hood Museum of Art, Hanover, NH – hoodmuseum.dartmouth.edu
Nature Museum at Grafton – nature-museum.org/
Norman Rockwell Museum of Vermont, Rutland, Vt. – normanrockwellvt.com
The Vermont Marble Museum, Proctorsville, Vt. – vermont-marble.com
Vermont Museum of Mining and Minerals – Grafton, Vt. – (802) 875-3562
Quilting Shops
Shopping
Trail Rides
Spas
Swimming
Grafton Inn swim pond (summer)
Grafton Ponds pond (summer)
Rockingham Recreation Center, Bellows Falls, Vt. — Pool open in summer – rockbf.org
Southern Vermont Health & Recreation Center, Springfield, Vt. – Indoor pool – myreccenter.org
Tennis
Indoor Tennis – West River Tennis & Fitness Center – South Londonderry, VT – (802) 824-3688
Platform tennis and standard tennis courts – Grafton Inn
Yoga/Pilates
Sprockets Fitness Studio, Brattleboro, Vt. – Sprocketscyclestudio.com
Interinclusion Summer Retreat July 2016

,
tagged: